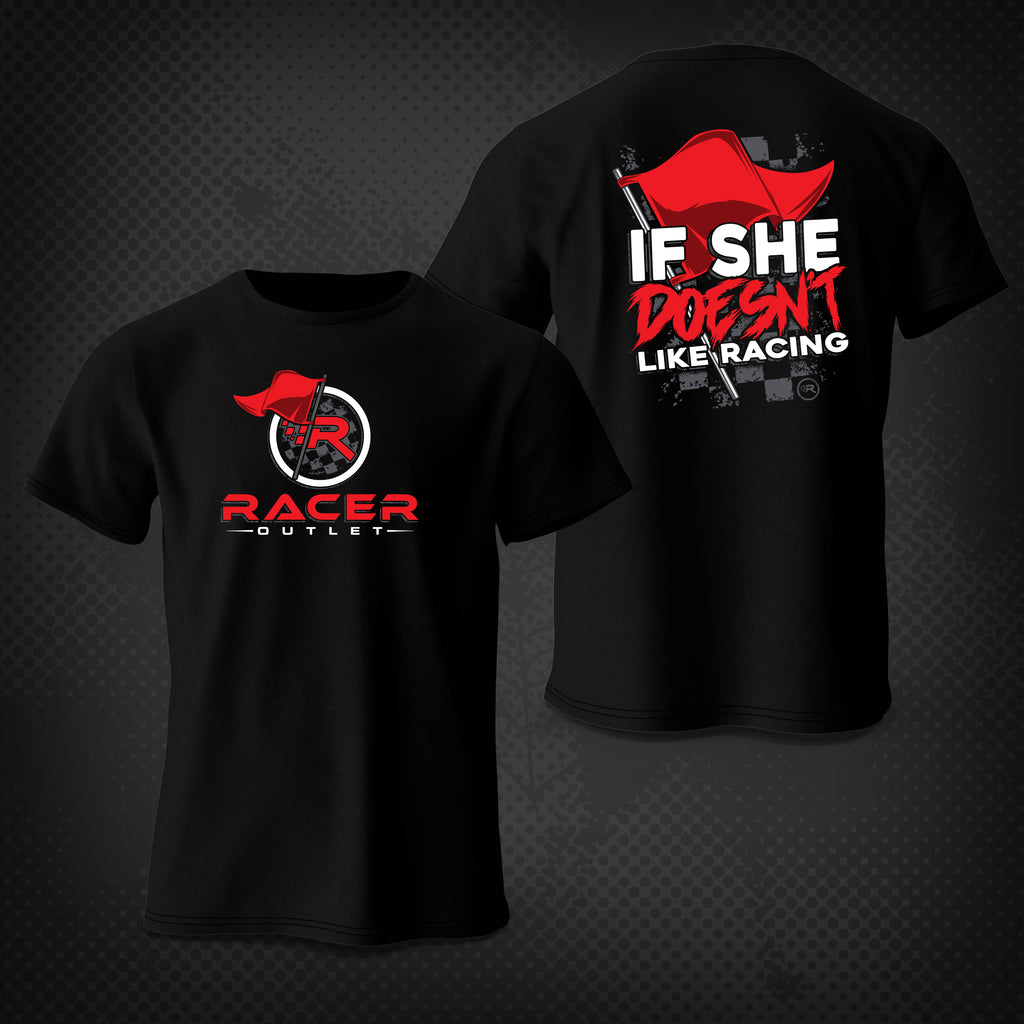 Red Flag Shirt
Introducing the Racer Outlet Red Flag Awareness 50/50 Blend T-Shirt—a must-have for those who live life in the fast lane and know the importance of recognizing relationship red flags!
🏁 Product Description:
Gear up with the Racer Outlet Red Flag Awareness 50/50 Blend T-Shirt, designed to keep you informed and stylish on and off the track. Crafted from a comfortable 50/50 blend of cotton and polyester, this shirt strikes the perfect balance between softness and durability.
🏎️ Red Flag Alert: Let the world know you're a racing enthusiast and a relationship savvy individual with the bold "Red Flag if she doesn't like racing" warning boldly printed on the back. Don't overlook the critical signs, just like you don't ignore warning signs on the track!
🔍 Sizing Information: Available in sizes ranging from S to 5XL, this shirt fits true to size, ensuring a comfortable and flattering fit. For those seeking a looser fit that allows freedom of movement, consider sizing up.
⚫ Classic Racer Outlet Logo: Sporting our iconic Racer Outlet Logo on the front, this black tee is the epitome of style and passion for racing. Embrace your love for speed while staying vigilant in your relationships.
Whether you're tearing up the track or navigating the twists and turns of love, let the Racer Outlet Red Flag Awareness 50/50 Blend T-Shirt be your trusted companion. Keep your eyes open for red flags both on and off the asphalt! 🏁

Description

Introducing the Racer Outlet Red Flag Awareness 50/50 Blend T-Shirt—a must-have for those who live life in the fast lane and know the importance of recognizing relationship red flags!

🏁 Product Description:

Gear up with the Racer Outlet Red Flag Awareness 50/50 Blend T-Shirt, designed to keep you informed and stylish on and off the track. Crafted from a comfortable 50/50 blend of cotton and polyester, this shirt strikes the perfect balance between softness and durability.

🏎️ Red Flag Alert: Let the world know you're a racing enthusiast and a relationship savvy individual with the bold "Red Flag if she doesn't like racing" warning boldly printed on the back. Don't overlook the critical signs, just like you don't ignore warning signs on the track!

🔍 Sizing Information: Available in sizes ranging from S to 5XL, this shirt fits true to size, ensuring a comfortable and flattering fit. For those seeking a looser fit that allows freedom of movement, consider sizing up.

⚫ Classic Racer Outlet Logo: Sporting our iconic Racer Outlet Logo on the front, this black tee is the epitome of style and passion for racing. Embrace your love for speed while staying vigilant in your relationships.

Whether you're tearing up the track or navigating the twists and turns of love, let the Racer Outlet Red Flag Awareness 50/50 Blend T-Shirt be your trusted companion. Keep your eyes open for red flags both on and off the asphalt! 🏁